Employment Opportunity
​ADMINISTRATIVE ASSISTANT: Southern Five Regional Planning District and Development Commission is seeking a full-time Administrative Assistant.

Required Education/Work Experience: Associate degree preferred or equivalent work experience.

Required skills include: excellent typing/word processing skills, excellent communication skills, evidence of strong attention to details with excellent follow-through skills, ability to organize and handle multiple tasks with frequent interruptions, ability to work independently, excellent computer application skills including MS Word, Excel, and Publisher.

The Administrative Assistant will be responsible for the following: provide confidential administrative support for the Agency's Executive Director and Program Directors; compose and produce reports, letters, memos, and presentations; maintain electronic and paper files; schedule meetings and appointments; provide general clerical support; maintain computer databases; prepare mailings; and assist with the preparation, submission and administration of grant applications.

Salary Range: $19,000-22,000
Benefits include company retirement contributions and generous sick leave, vacation time, and paid holidays.

Interested applicants should send cover letter with resume and references to: Executive Director, Southern Five RPC, 5 Justice Drive, Ullin, IL 62992. Resumes will be accepted until 4:00 pm on December 18, 2017. Please feel free to contact us at (618) 845-9000, if you have questions about the position. Southern Five Regional Planning District and Development Commission is an Equal Opportunity Employer.
---
Funding Opportunities
DATE: February 17, 2017
TO: All Interested Municipalities & Businesses
RE: USDA Rural Development Grant Opportunities


Rural Business Development Grant (RBDG) is a competitive grant designed to support targeted technical assistance, training and other activities leading to the development or expansion of small emerging private businesses in rural areas that have fewer than 50 employees and less than $1 million in gross revenues. Programmatic activities are separated into enterprise or opportunity type grant activities.

Enterprise type grants include training and technical assistance, acquisition or development of land, pollution control, distance adult learning, rural transportation, community economic development, technology-based economic development, feasibility studies, leadership training, rural business incubators, and long-term business strategic planning. Examples of funded RBDG grants are renovation of downtown buildings, extend sewers to businesses, business incubators, forklifts, and technical equipment for job training.

Opportunity type grants include community economic development, technology-based economic development, feasibility studies, leadership training, rural business incubators, and long-term business strategic planning.

Community Facility Grant (CF) program provides affordable funding to develop essential community facilities in rural areas. An essential community facility is defined as a facility that provides an essential service to the local community for the orderly development of the community in a primarily rural area, and does not include private, commercial or business undertakings.

CF funds can be used to purchase, construct, and/or improve essential community facilities, purchase equipment and pay related project expenses. CF grants are 75% grant, up to $25,000, and 25% match from the community. Examples of funded CF grants are cop patrol cars, repairs to community buildings, storm sirens, and fire gear.
​
Southern Five can assist your community with either of these funding opportunities. If you have any questions or are interested in either of these Rural Development grant opportunities please contact our office at 618-845-9000.
---
Serving the Southernmost Illinois Counties of Alexander, Johnson, Massac, Pulaski and Union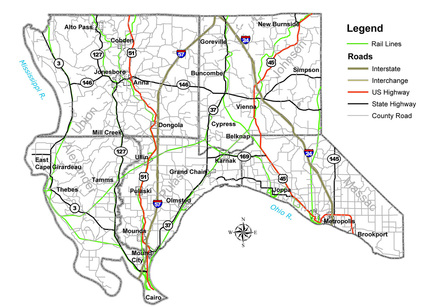 Southern Five Service Area
Southern Five Regional Planning District and Development Commission was authorized by Illinois legislation in 1976. Resolutions of adoption from each of the five counties determined that Southern Five would coordinate local economic and community development. Southern Five is funded, in part, by the U. S. Department of Commerce's Economic Development Administration (EDA). We are a federally designated Economic Development District (EDD). The agency administers In-House and Local Revolving Loan Funds (RLFs) and prepares Community Development Assistance Program (CDAP) grants for public facilities and housing rehabilitation. Southern Five works closely with USDA Rural Development and the Department of Natural Resources, provides technical assistance to local governments on matters pertaining to land development, and has an in-house GIS lab able to produce maps of the region. Southern Five is also a Center for Regional Statistics and provides assistance to member communities with special projects.

---
---
In accordance with Federal Law and U.S. Department of Agriculture (USDA) policy, this institution is prohibited from discriminating on the basis of race, color, national origin, age, disability, religion, sex, and familial status. To file a complaint of discrimination, write to: USDA, Director, Office of Civil Rights, 1400 Independence Avenue, S.W., Washington, D.C. 20250-9410 or call 800-795-3272 (voice) or (202) 720-6382 (TDD).

Southern Five does not discriminate in admission, access to, treatment or employment in programs or activities on the basis of a handicap in violation of section 504 of the Rehabilitation Act.